A Pakistan International Airlines (PIA) plane around hundred passengers onboard crashed in a residential area while landing at Jinnah International Airport in Karachi.
According to sources, flight PK-8303 took off from Lahore Allama Iqbal International Airport and crashed in Model Colony area in Malir, approximately 4 kilometers away from the airport.
Images aired on television showed the Pakistan International Airlines flight had smashed into a residential area, with clouds of thick black smoke billowing from the site.
Dunya News obtained audio of conversation between captain of the ill-fated plane and control tower in which pilot could be heard saying that they have 'lost two engines'. Few seconds later he gives 'mayday' call.
According to witnesses, four houses have been damaged in the incident. Five dead bodies have also been retrieved.
Army, Rangers and Police units have arrived at the scene. Emergency has been declared at Jinnah Hospital.
Speaking to Dunya News, PIA spokesperson confirmed the plane crash. He said information is being collected at the moment. Ninety nine passengers and six crew members along with two captains were onboard the plane.
It was an Airbus 320 which has capacity to carry around 180 passengers, however, number of passengers were kept at 50% capacity limit to ensure social distancing measures.
LIST OF PASSENGERS ONBOARD PIA FLIGHT PK-8303:
The crash occurred just days after the country began allowing commercial flights to resume after planes were grounded during a lockdown over the coronavirus pandemic.
Pakistan has a chequered aviation safety record, with frequent plane and helicopter crashes over the years.
In 2016, a Pakistan International Airlines plane burst into flames after one of its two turboprop engines failed while flying from the remote northern to Islamabad, killing more than 40 people.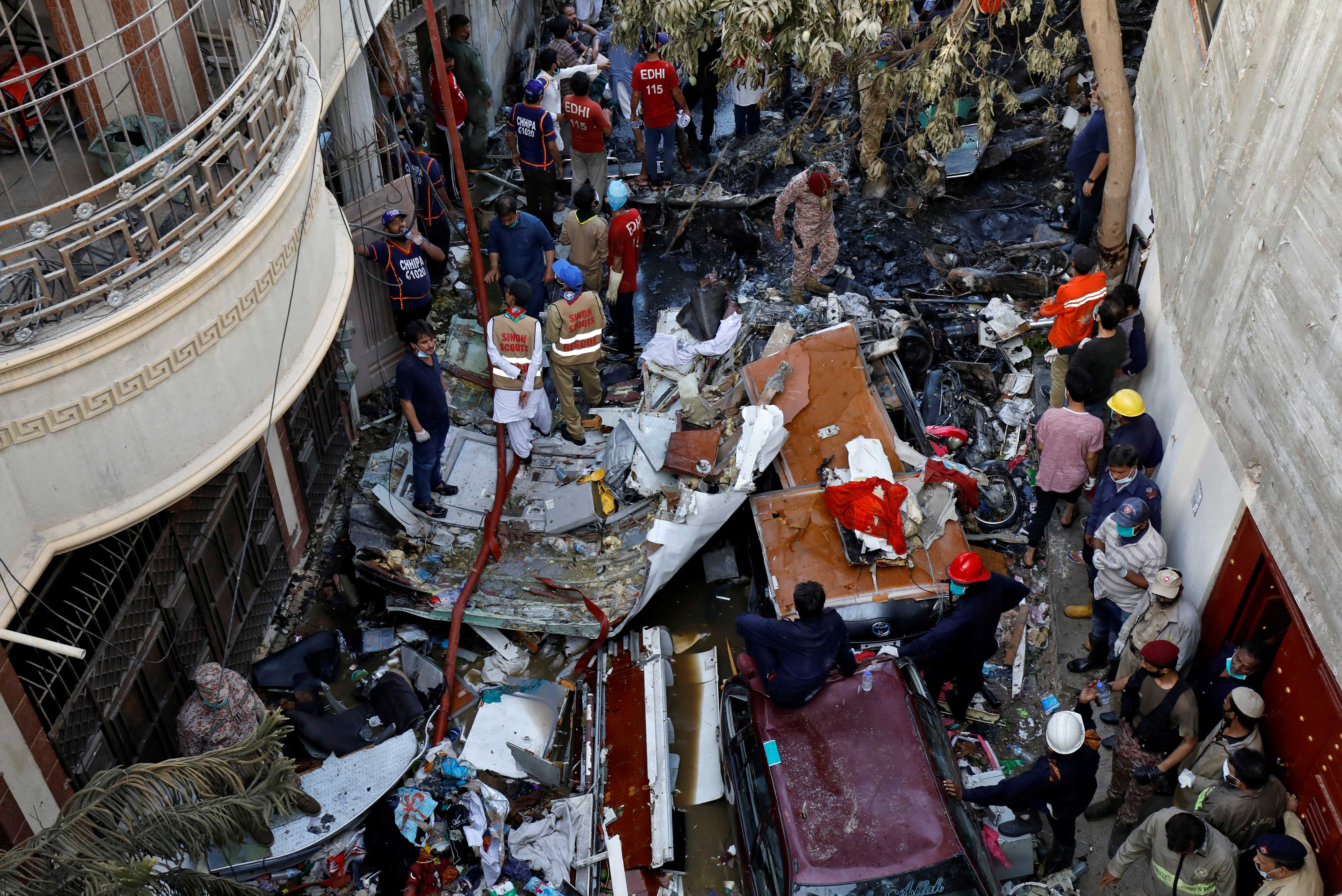 The crash comes as Pakistanis across the country are preparing to celebrate the end of Ramadan and the beginning of Muslim holiday Eid al-Fitr, with many travelling back to their homes in cities and villages.
PASSENGERS 
According to the PIA officials, passengers included 51 male, 31 female and nine children. Chairman Punjab Bank Zafar Masood, senior journalist Ansar Naqvi and model Zara Abid were also travelling in the same flight.
EYE WITNESS 
A resident told Gulf News that the aircraft came dangerously before crashing. "It hit a house first and then crashed. We do not yet how many people have been killed on ground," said Shoaib Chaudhry. He said that area has been cordoned off for the resuce operation.
Chaudhry further said that the crash site is densley populated with mostly two to three storey houses. "Thick black smoke is billowing from the spot and some area is also on fire. Some houses have also damaged," he added.
PILOT, CONTROL TOWER CONVERSATION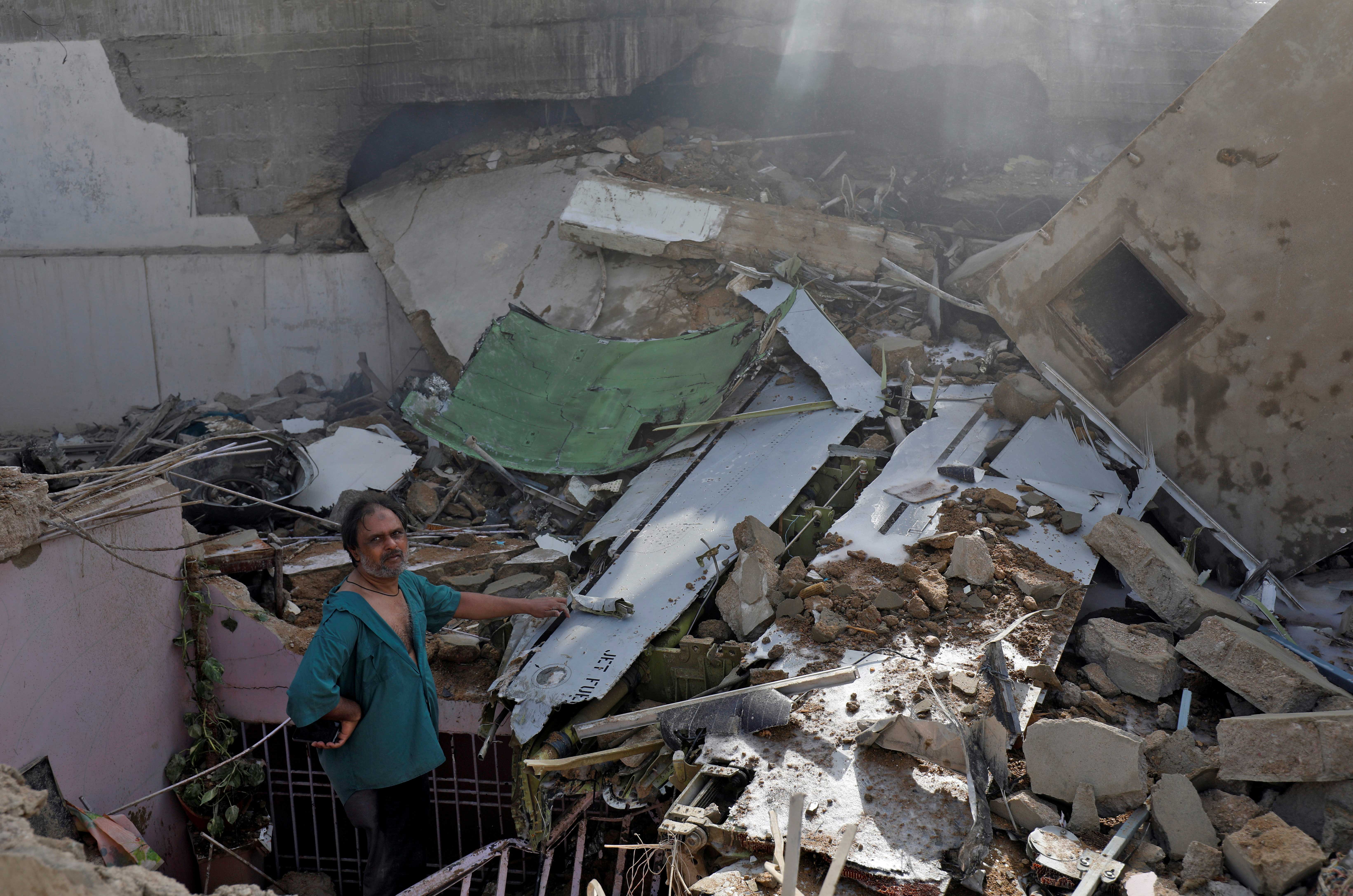 The pilot of Pakistan International Airlines (PIA) flight PK 8303 is heard saying he has lost both engines and then "Mayday, Mayday, Mayday," the international distress message in the final moments of the conversation with the air-traffic controllers
A PIA official said that in the last conversation with the control tower, the pilot talked about technical problem including the loss of both the engines.
A recording of conversation between the airport control tower and the pilot just before the crash confirmed engine failure. "I have lost one engine, May Day, May Day," said the pilot. The control tower informed the pilot that both the runways were available for landing." Then the tower lost the contact.
BLACK BOX
The rescuers have recovered the black box of the Pakistan International Airlines (PIA) flight PK 8303 which crashed into a residential area of Karachi, with many feared dead.
According to sources, the plane s black box, which contains cockpit audio recordings and technical flight data, has been recovered by investigators.
Sources said that the black box has been handed over Civil Aviation Authority (CAA).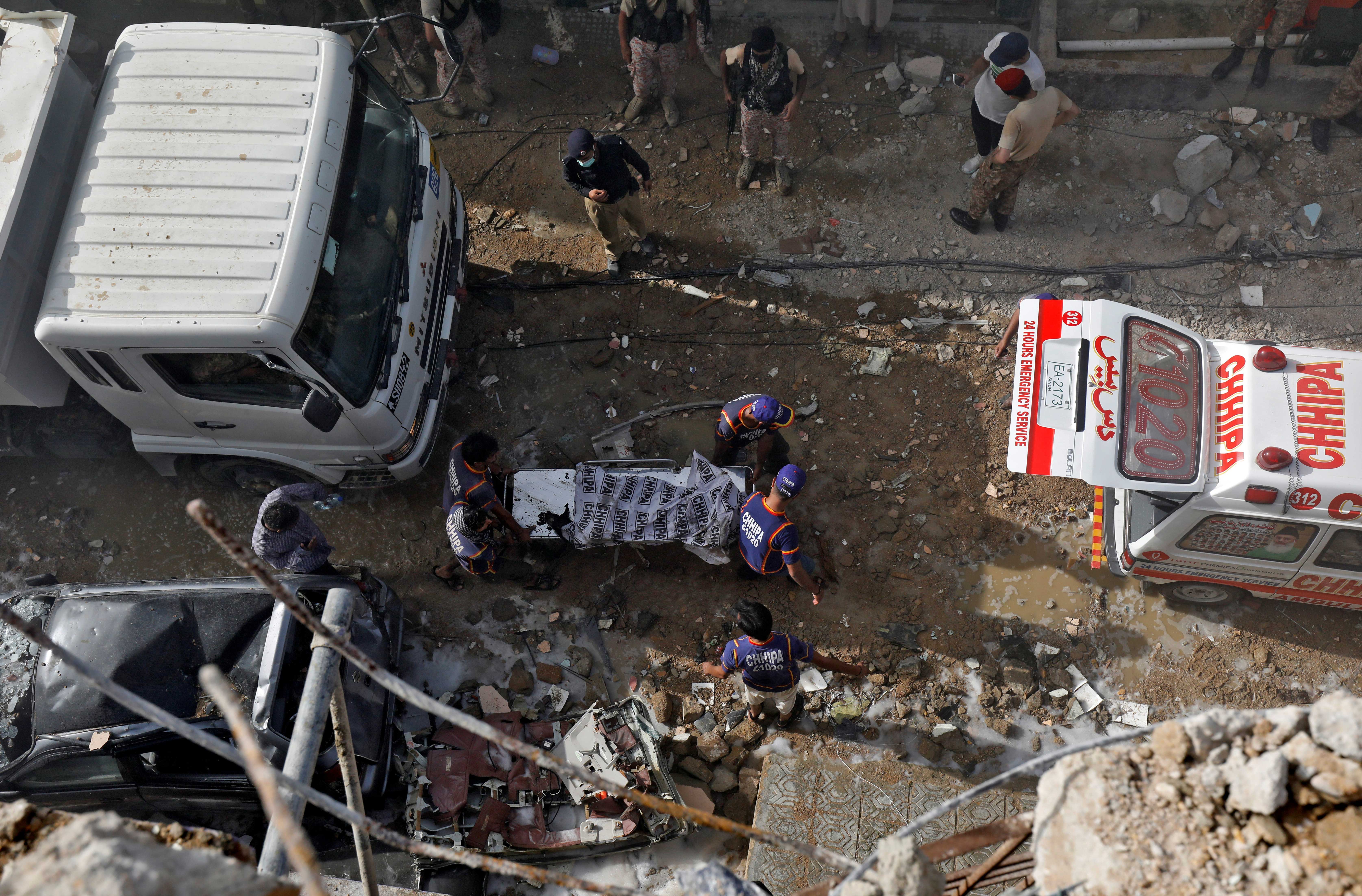 HOPES OF SURVIVORS
A passenger who miraculously survived a plane crash that is feared to have killed almost everyone on board escaped with broken bones and scratches, say family members.
Footage available with Dunya News shows Bank of Punjab (BOP) CEO Zafar Masud being carried away from a large section of burning wreckage in a narrow street that is buried under debris. A photo shows the injured man smiling and thankful to be alive as he lay on a stretcher.
About six witnesses are seen carrying the CEO of the Bank of Punjab to safety amid a chaotic and distressing scene after a Pakistan International Airlines (PIA) jet crashed in suburban Karachi on Friday afternoon.
As many as 107 passengers and crew were on board the Airbus A321 and so far there are only two confirmed survivors.
Masud escaped with relatively minor injuries after the plane crashed into houses in a residential area close to Jinnah International Airport.
Hopes of survivors were raised as a woman tweeted saying a relative had made it out alive. Zainab Imam, a communications manager with the Washington-based International Center for Journalists, wrote on Twitter: "A close relative was on the flight from Lahore that crashed. There are survivors – he is one.
"Thank you for everyone's good wishes. We hope that our good news gives others hope. We're praying that there are other survivors who got as lucky as he did."
A baby was pulled alive from the Pakistan plane crash impact area. The baby from a family in the community of Model Colony was buried under rubble caused by the impact of the crash.
However, a number of families claimed they had been contacted in the aftermath by loved ones who were on the jet and were still alive.